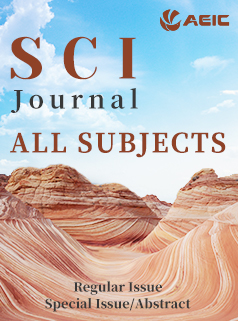 Journals of Single/Multi-/Comprehensive Disciplines

Coverage:all disciplines
IF:unlimited
JCR:Q1-Q4
Abstracting and Indexing:SCI/SCIE/SSCI
Type:regular /special issue, abstract
Submission deadline:long term

Introduction
Scholars usually spend a lot of time in searching, screening, analyzing and matching journals during the publication of their paper(s). In order to help researchers speed up the publication process, AEIC has developed an online submission platform , in which they can click this button

, to finish the submission. Through the journal database in the system and with the help of experienced editors, all submitted papers will be analyzed, evaluated and then matched with suitable journals on the basis of the paper's subject, content, structure and the requirements of the authors. Author will receive the feedback and suggestions on his/her paper in three working days. Besides, the author will receive support during the whole publication process, making the acceptance of paper easier.

Service
Relying on Internet information and database technology, integration of channels and cooperation resources, AEIC provides services such as content review and publication support of articles which are for SCI/SSCI/EI/ESCI/Scopus/CNKI indexed journal. AEIC has developed strategic partnerships with well-known publishers, such as IEEE, Springer, Elsevier, Wiley, IOP, EDP, ASME, SAGE, etc., and calls for papers in natural sciences and humanities & social sciences. All papers will not be submitted to their suggested journal until they have been reviewed by the editors and the authors have make corrections accordingly based on the comments given by the editors, which helps the papers meet the standards of their suggested journal, increases the speed of the publication process and acceptance rate. So far, AEIC has provided high-quality services to 100,000 authors from 100+ countries around the world, and has become a famous service provider in English editing and publication service for academic papers. Contributed articles on all subjects are welcome!
Instructions
(1). AEIC does not wish to receive any papers on research work that has already been reported in parts or contains already published text, data, figures, tables or other illustrations or any copyright materials whatsoever that has been submitted or accepted for publication either in a journal or conference proceedings elsewhere in any form, in print or in electronic media. Besides, all contributed articles should be valuable in theoretical or practical aspects;
(2). Before the paper is submitted to the suggested journal, AEIC offers a free duplicate check. Also, the authors can finish duplicate check at their own expense via CrossCheck, Turnitin or other systems. The overall similarity of the paper to published work cannot exceed 20%;
(3). The article should be informative and complete with reliable data and high solution figures which are all cited in the text. Moreover, the structure of the original work should meet the requirements of the suggested journal, and its literature review and references should reflect the international latest research. The authors should also make sure that all references are cited in the text;
(4). After the paper passes the preliminary review, the authors can choose the English polishing service provided by the AEIC translation center.
Process
Submission >> Preliminary review >> Contract signing/ Down payment >> Final review >> Acceptance >> Publication >> Indexing
Contact
| | | |
| --- | --- | --- |
| Cowry Hu | Lvy Lee | Mia Chan |
| Phone/WeChat:13922150410 | Phone/WeChat:13922150234 | Phone/WeCha:13922150403 |
| QQ:1707536149 | QQ:3503119615 | QQ:2949584500 |
| | | |
E-mail:service@keoaeic.org